A place where the impossible becomes possible

March 2021
We've all felt, in one way or another, the tough times since last year's pandemic outbreak. Hopefully, it won't be for much longer but we feel that, in order to stay motivated and creatively in shape, we need to do something to keep us active. We really miss the creative process that is made together, and those moments when someone shares the most unusual ideas, random facts, or just a piece of unrelated daily news that cracks a laugh. So we came up with an initiative for creatives of all ages and backgrounds: The Impossible Brief.
We know we are not alone; there is a creative in every one of us. So we devised a place where creativity has no boundaries and where design has the power to make the impossible become possible. It comes as an escape from the real world; a place where creativity can come in all shapes and sizes and with no right or wrong answers. This place is a series of challenges based on imaginative and bizarre stories that serve as briefs for the creation of unexpected artistic responses.
In the spirit of the project - there are no rules. You are invited to create anything, it can be a logo, campaign, artwork, zine, series of photos, posters, images, a t-shirt, drawing, badge, story, 3D piece, sound piece, video or something else. It can be used as a game, an exercise, a school project or just for fun.
We are committed to helping the world become a better place and we think creativity is a good place to start. If you feel the same or just want to unplug and have a bit of fun feel free to share and take this idea forward by submitting your ideas to our made up briefs.
visit
the-impossible-briefs.com
for more information.
How our studio rebranding became a typeface about us

January 2021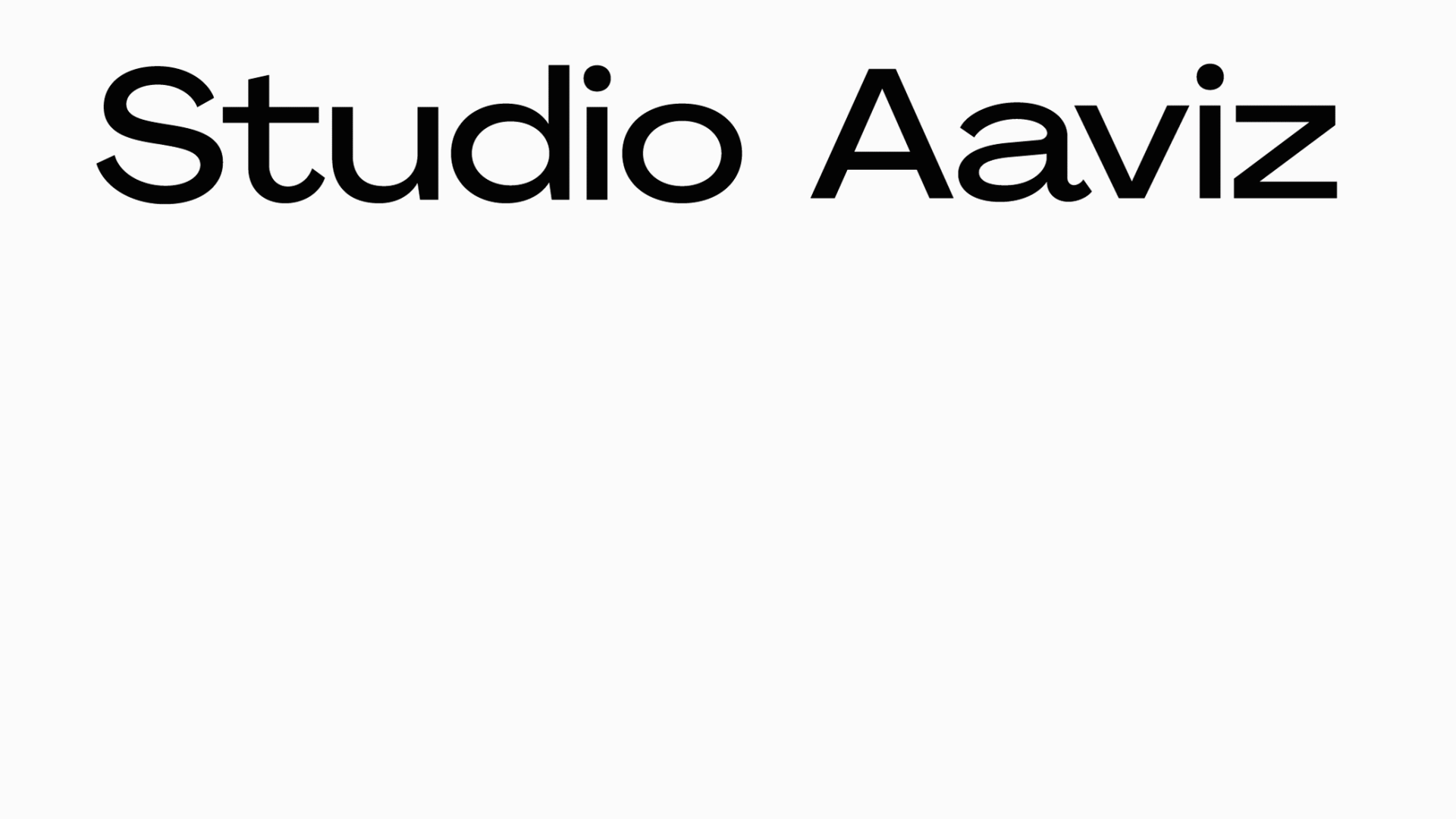 2020 was definitely a year of reinvention and at Studio Aaviz we felt it too. Reinventing is something that we are very used to doing for our clients, so we saw it as a simple job, but it revealed to be a bigger challenge than we thought. It is something easy to say but definitely hard to do, and even harder when you are doing it for yourself.
We understood that the most important asset of the studio was its people, so if this typeface was going to be a symbol and statement of our Studio, it needed to be an expression and an exhibition of ourselves. We envisioned a re-branding that would state not just our artistic style but ourselves as people. This would be our chance to really embed ourselves in our work. So we decided that not only one, but several, creatives would be taking part in this job, where we focused on the main characteristics of our studio being the diversity of culture, expertise and backgrounds. We chose different words that best represented ourselves as individuals and produced corresponding characters with paint, ink, vectors or any other medium. By mixing these individual characters together, we created a synthesis of all of our personalities.
We based our new typeface on the fluid, serifless Agrandir. It proved to be the right foundation for a design leveraged on a variety of shapes, being organic but also contemporary. This typeface would be an archetype of the diversity of our studio and would be the fuel for the movement of social and cultural change we set ourselves to be part of through our work. Our goal was to bring designers with very different skills and worldviews together, hoping to create a hybrid typeface that was balanced and relevant, and would best describe ourselves, our studio and our work. We managed to create a versatile typeface, blending shapes and forms, that can be comfortably used in most applications ranging from headline posters to pattern styles.
Finally, one of our most prized learning outcomes was that we can successfully use typography to show emotion, philosophy, activism, and have a lot of fun in the process.